Have you already decided on your new year's resolutions?

Now that the year's festivities are ending, it is time for the real work to begin.

Resolutions have always been a part of tradition in every culture. Millions of people make their own lists of things they want to change for themselves, for better or worse. Be it small or big, these changes can have a monumental impact on our overall quality of life.

The concept of resolutions is related to renewal, with a new year, a new you can emerge. But of course, following through on your resolutions is critical for these changes to mean anything.

With help from your friends at Medgate, here are a couple of tips to help you follow through and commit to your new year's resolutions.
New Year's Resolutions:
Lose Weight
Losing weight might be the most popular new year's resolution yet. What turns people off is the fact that losing weight is more than just adding exercise sessions to your weekly routine. Losing weight also requires you to be more disciplined when it comes to food, specifically in the kind of food, frequency, and amount of food you consume.

With numerous types of diets, you need to be careful in choosing the one that will be able to fit your current lifestyle and which ones will work for both the short and long term. Some diets promise quick results but will prove harmful in the future.
Resolution Recommendation
A suitable diet plan can be initiated with the proper guidance of your physician and nutritionist. Diets may not work as immediately as we want them, but the proper diet will make sure that the body can cope with the changes and will not leave the body wanting the necessary nutrients to function.
New Year's Resolutions:
Eat Healthier
Often done side by side with losing weight and exercising more, eating healthier will keep you standing as you try to achieve your body goals. While this may turn off some people, eating healthier does not always equate to eating only vegetables. Granted, you will have to include some of them in your everyday diet, but several types of meat have their own purpose on the dietary table.

Striking a good balance between the things you eat for your health, pleasure, and those guilty little pleasures is important!

The addition of certain ingredients to your diet may help you get stronger, your organs function better, avoid certain illnesses, and make you feel a lot better!
New Year's Resolutions:
Start a Skin-Care Routine
When you start to feel good, it will help to make yourself look great too. Creating a skin-care routine is simple. However, you can always take an extra step or two. Who does not want to make a good impression?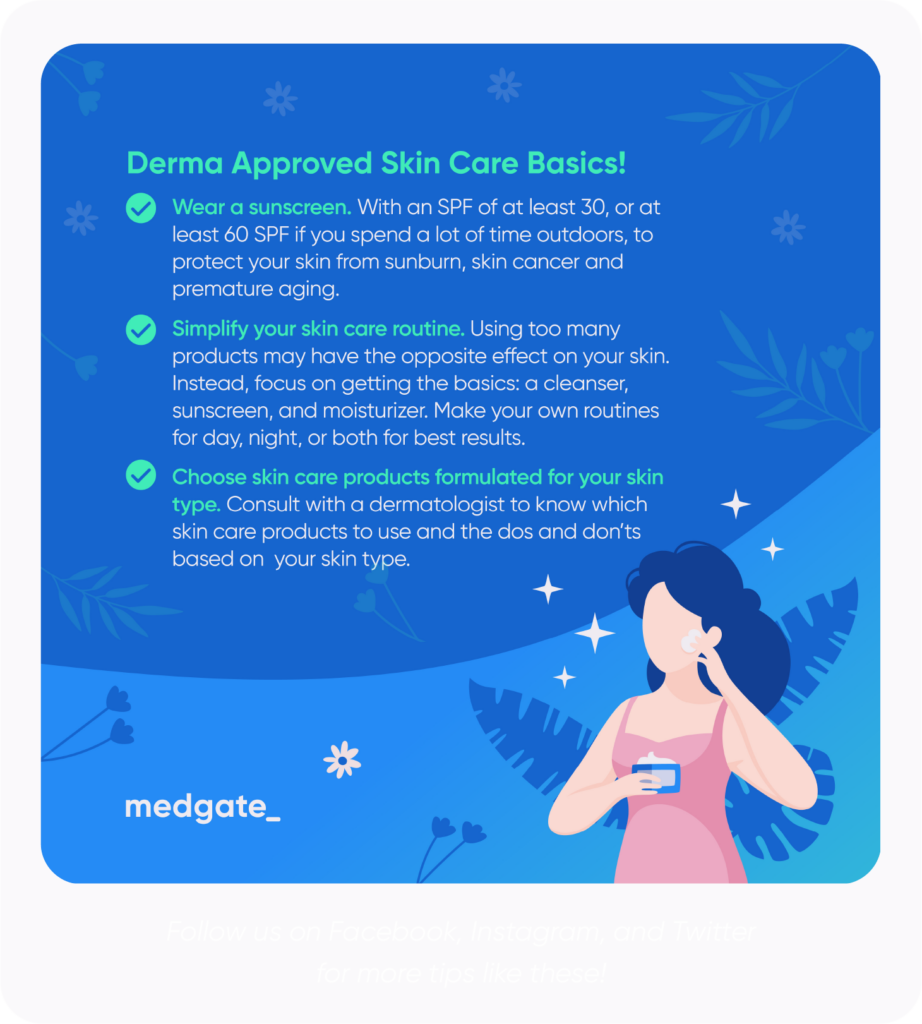 Eating the right food, getting plenty of rest, and a few extra steps here and there will get you standing out in no time.
New Year's Resolutions:
Upping Your Mental Health Game
All of these would not matter much if your mental health does not receive the proper care. Nowadays, a lot of stressors exist all around us, from strangers, and sometimes, even from those close to us.

Dealing with everyday stuff can be stressful too. Try to carve out some time in your day to mentally recover from the day's events. Be it in the form of journaling, taking a long bath, or getting comfort food, there is nothing more important than coping and mentally bracing yourself.
Medgate Hack: Try to slow down and temporarily escape from all the hubbub with meditation or yoga. Not only will these strengthen the mind and body, but an increase in serotonin is also in store for you too! Good chemicals, all around.
Stay positive!
Changing for the better is never going to be a quick and easy endeavor. It requires dedication, discipline, and the occasional reward to get yourself through them.

While it seems easier to just give up or be swept up by despair, never forget to look back to where you started, and to look forward to what is in store.
It always pays to be informed.
If you want to learn more about taking care of your body (not just during the first few days of the year!), Medgate's team of medical experts is only a ring away.

Make your teleconsultations easier by chatting with us on Facebook Messenger or call us through the following numbers:

Landline: 84241737
Globe: 09175362156
Smart: 09190580500

Available 24/7 and on holiday, ready to give the gift that comforts
Tags: